If pushing yourself to the limit is what you're looking for, then it's time to enroll in Boot Camp! 50 minutes to an hour class for all ages and fitness levels.

Our results driven boot camp exceeded Debbie's expectations! Not only did she lose weight, she got stronger & improved her energy level.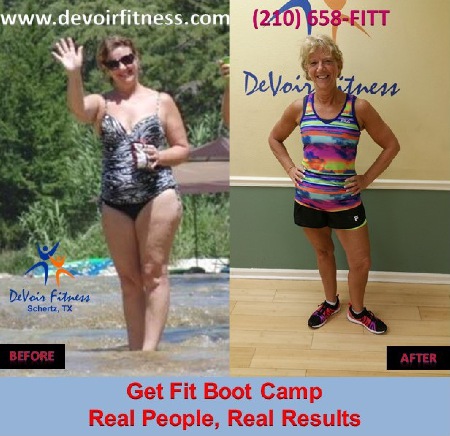 GET FIT BOOT CAMP ~ Special Discount: $99 for 4 Weeks. Held on Monday-Wednesday-Friday at 5:15am.

Are you ready for a challenge?

Boot Camp's no nonsense approach to physical fitness can provide...

• fat and inches loss
• increased strength and endurance
• increased energy
• improved posture
• improved self-confidence
• enhanced relaxation
• better sleep

KID'S FIT CAMP ~ FREE with Family memberships. Next 12 weeks sessions begins in September on Tues/Thurs at 4:45pm. Cost is $75. Advance registration required.

We use the RIPPED for Kids Program (R4K). It is an unique fitness formula to get kids fit while having fun moving to music. Our program is designed for kids 2nd to 8th grades. Parents are welcome. Kids should be in good health.

SMALL GROUP TRAINING ~ 8 sessions for $79 held on Mon & Wed at 7:30pm as scheduled. Limited to 10 people.

Small Group Training is a high intensity resistance class. When combined with a cardio program, it gives rapid benefits. This program is perfect for pushing your strength, balance, and body weight goals forward with proven and sustainable results. Classes have a maximum of 10 people, giving participants more individual attention from the Certified Personal Trainer.

NO drop-ins or punch cards for Boot Camp or Small Group.
NO Get Fit Boot Camp on 27 Nov and 25 Dec - 1 Jan.

Requirements: Be in good health, no injuries, exercise mat (optional), water and towel. (Trainers may give additional requirements if applicable). No Contract. SIGN UP BELOW.