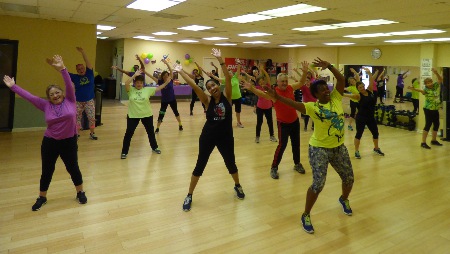 IT'S NOT JUST FOR BABY BOOMER, IT'S FOR EVERYONE!

It takes the Zumba® formula and modifies the moves while bringing down the pace. What stays the same are all the elements the Zumba Fitness-Party is known for: the zesty Latin music, like salsa, merengue, cumbia and reggaeton; the exhilarating, easy-to-follow moves; and the invigorating, party-like atmosphere. If you want camaraderie, excitement and fitness as a regular part of your weekly schedule; try our Zumba Gold program. The Zumba Gold class maybe the perfect fit, and the right choice for those just starting their journey to a fit and healthy lifestyle. It's a dance-fitness class that feels friendly, and most of all, FUN for all!.

Requirement: Comfortable shoes, water and towel.

Zumba® Gold-Toning – The Zumba® Gold-Toning program offers the best of both worlds — the exhilarating experience of a Zumba Fitness-Party with the benefits of safe-and-effective strength training. It's an easy-to-follow, health-boosting dance-fitness program for baby boomers as well as beginners. Through dynamic lightweight resistance training and exciting international rhythms, Zumba Gold-Toning classes help participants build muscle strength, increase bone density, and improve mobility, posture and coordination.

Gentle Yoga - LEARN MORE