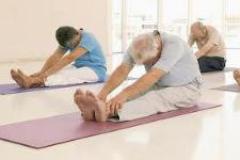 Beginners are WELCOME! Whether you're a couch potato or a professional athlete, size and fitness levels do not matter because there are modifications. The idea is to explore your limits. ​ Great complement to all exercise programs and healthy lifestyle.

Requirements: Mat, towel, and water.

BENEFITS OF STRETCHING.
A great tool for staying healthy and focuses on your body's natural tendency toward health.

PHYSICAL BENEFITS. Increased flexibility
Increased muscle strength and tone
Cardio and circulatory health
Improved athletic performance
Protection from injury.