FIND YOUR INNER PEACE AND STRENGTH

With all the high intensity training and the overall speed of life, sometimes it's nice to simply slow down. In this class, we will move through poses that will help transform both your body and mind ultimately helping you find an inner calmness/peace, strengthen the core, tone muscles, and enhance balance and stability while leaving you feeling stronger and more centered.

Beginners are WELCOME! Whether you're a couch potato or a professional athlete, size and fitness levels do not matter because there are modifications for every yoga pose. The idea is to explore your limits. ​YOGA is a complement to all exercise programs and healthy lifestyle and a great way to get in tune with your body and your inner self.

Requirements: Yoga mat, towel, and water. Consult your medical doctor if you have spinal or neck injuries.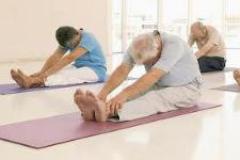 Gentle enough for people with movement limitations, stiffness due to lack of exercise or only strength exercise; relief from disabilities, e.g., arthritis, back pain; recovery from surgery or injury; for seniors, new practitioners, pregnant women and those seeking stress-reduction or weight management. A gentle yoga approach is an important compliment in programs to reverse heart disease or provide relief from the challenging conditions of fibromyalgia, chronic fatigue, or mood disorders.

BENEFITS OF STRETCHING.
A great tool for staying healthy and focuses on your body's natural tendency toward health and self-healing.

PHYSICAL BENEFITS.
"The relaxation techniques can lessen soon chronic pain, such as lower back pain, arthritis and headaches; also may lower blood pressure and reduce insomnia." Other physical benefits include:
Increased flexibility
Increased muscle strength and tone
Improved respiration, energy and vitality
Maintaining a balanced metabolism
Weight reduction
Cardio and circulatory health
Improved athletic performance
Protection from injury

MENTAL BENEFITS.
Aside from the physical benefits, one of the best benefits is how it helps a person manage stress, which is known to have devastating effects on the body and mind. Stress can reveal itself in many ways, including back or neck pain, sleeping problems, headaches, drug abuse, and an inability to concentrate.